People Recognition - Kudos4U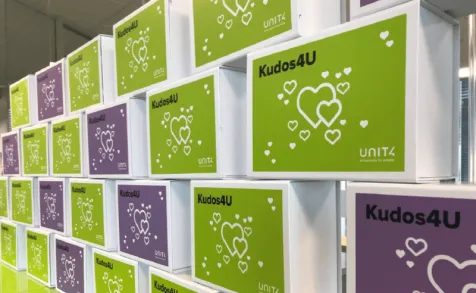 Kudos4U is our recognition program, through which we celebrate our people, recognizing and rewarding those who live our Unit4 values for their outstanding contribution to our success.
Everyone at Unit4 can nominate a colleague, and everyone can be rewarded! 
Kudos winners can select an experience of their choice, which can be anything from a dinner, a spa treatment, or a sports training session – but foremost the appreciation for making a difference to others!
Concierge team handles all of the heavy lifting, planning logistics according to the winner's preferences. 
I chose to get fresh flowers delivered every month. Lovely to know that these will keep arriving during the dark months to brighten up the house!
Eleonore
Examples of experiences chosen by our people
The high touch service made the experience so much more than what many other companies do to recognize performers. I talk about how great the cocktails were and how much I look forward to getting my next box but I rave about the concierge level service provided.
Ken